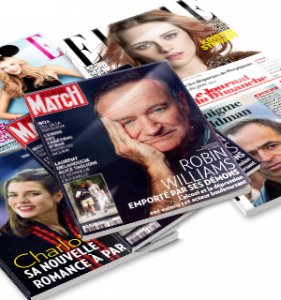 The Lagardere Group is a global leader in content production and distribution whose powerful brands leverage its virtual and physical networks to attract and appeal to qualified audiences. Its model relies on creating a lasting and exclusive relationship between the content it offers and consumers. It is structured around four business lines:
Lagardere Publishing
Lagardere Active
Lagardere Travel Retail
Lagardere Sports & Entertainment
Lagardere Active plays a central part in the French media with its strength built on iconic and reputable brands such as Elle, Paris Match, Europe 1, RFM, Gulli and Doctissimo.
It is a major player in television and radio, with 23 radio stations worldwide, 17 television channels and France's number one production company. As the leading French publishing group for mainstream magazines, with 27 press titles in France and 84 publications under license internationally, Lagardere Active is also the leading media group in terms of audience on the mobile web in France.
The group's current challenges are to grow stronger, develop and innovate. The group's priority is to continue improving its profitability and to step up its digital development. That is why 4Dconcept is providing support to 3 of the group's major brands—ELLE, JDD and Paris Match—in their digital transformation.
These three titles chose to place their trust in 4D Concept by choosing XMS PressNews, a cross media publishing solution for writing, managing and automatically publishing content. This solution ensures the content's multichannel distribution (web, mobile and print). This was a natural choice for the group, ensuring better merging of existing press room technologies with the purpose of optimizing production processes.
For several years, a partner relationship has grown between Lagardere Active and 4D Concept to provide optimal support to the group in their digital transformation.
source : http://www.lagardere.com/