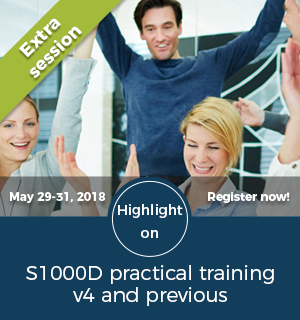 Providing support to your teams is at the heart of our concerns. That is why 4D Concept has set up a rich and tailor-made training offer that promotes individual exchanges in small groups and real-life scenarios involving reflection and practical work. At your premises or in our offices in the Paris region, we adapt our programs to your requirements and your working environment.
WHAT ?
Become fully operational in S1000D !
WHEN ?
May 29 to 31, 2018
WHERE ?
In our offices in Saint-Quentin-En-Yvelines (78180)
FOR WHO ?
Document Managers, Product Managers, Technical Editors, Anyone who needs to produce standardized documents S1000D
PREREQUISITES ?
No.
Registration request by mail to : info@4dconcept.fr