DITA Europe – 5-6 November – Rotterdam (The Netherlands)
4D CONCEPT on DITA Europe 2018 – 5-6 November – Rotterdam (The Netherlands)
With insights from nearly 50 presenters, 17 Sessions in the Technology Test Kitchen, an exhibit hall packed with the best content management solutions, and the very best in industry networking, DITA Europe is designed with your specific needs in mind—providing strategies you can use immediately as you create and manage technical content, and expanding your professional network with information development experts from around the world.
This will be an opportunity for 4D CONCEPT to present its DITA Factory suite.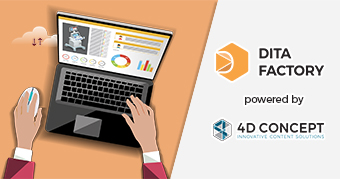 DITA FACTORY
The DITA Factory software suite, based on a powerful and customizable XML base, brings you all the benefits of the DITA standard: quality gain, ROI in localization, and unique features in ergonomics, control and interface functionality with your partners.