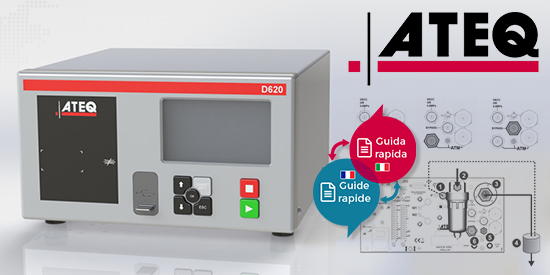 ATEQ goes DITA with DITA Factory Publisher
The challenge
ATEQ is the world's leading supplier of automatic leak testing machines and leak test systems for production lines and laboratories. Its test equipment, sold all over the world, is always accompanied by paper-based user documentation, still being produced in 2017 in MS‑Word™.
ATEQ wanted, in 2018, to modernize its user documentation by linking the modularity of information to the modularity of its equipment, for greater flexibility and also to reduce production costs and translation costs.
The solution
4D Concept was selected to support the transition to DITA, whose modularity is well suited to that of ATEQ equipment ranges.
Using DITA Factory Publisher dramatically streamlined ATEQ document production, while maintaining the extreme flexibility of the publication template.
The layout of the publications is done in InDesign™, leaving the layout artists free to modify the styles and the page background.
A configuration adapts the published output to the specific writing methods recommended by 4D Concept for ATEQ production.
The strength of DITA, which optimizes writing processes and reduces translation costs through existing content reuse mechanisms, is widely used:
Filtering by conditional criteria (DITAVAL applicability)
Referencing common libraries (conref, conkeyref) by language
Libraries from ATEQ equipment
Relevant division into topics.
Thus, DITA Factory Publisher automatically generates ATEQ screenshots in all languages by converting libraries, created from equipment interface files.