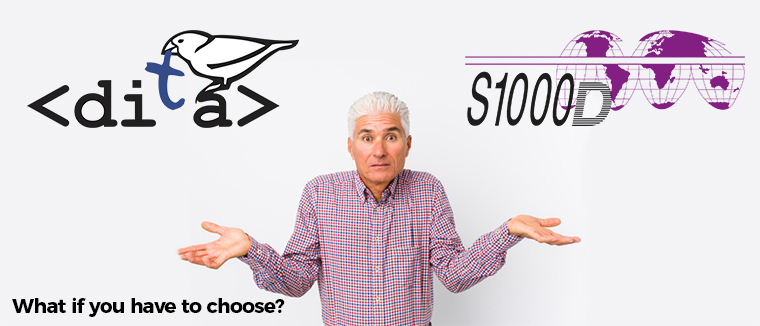 You've probably already heard of it; you've looked into it: DITA and S1000D are streamlined editorial standards that help you improve the management of the production and distribution of your technical publications (user manuals, maintenance manuals, training manuals, technical-sales offers, etc.).
More specifically, the use of these standards means that, if your documentary production is suitable, you can:
Significantly increase perceived quality
Reduce update costs
Reduce translation costs
Distribute your publications easily through different channels: paper (and PDF to download), web and mobile
How do they work?
DITA
and
S1000D
are both based on XML, a non-proprietary "text" data recording format that is universally recognized, notably because it accepts all alphabets (European, Asian) and supports easy exchange on a global scale. What's more, both
S1000D
and
DITA
use a "modular" editing format: documents are made up by assembling documentary units that can be reused in different publishing contexts. The documentary units are reused whenever there is technical commonality (products themselves that are modular), cross-disciplinary aspects (security, legal, design, procedural etc.), shared data (brands, spare parts etc.), and so on. For each module and within each module, an applicability mechanism manages the variable aspects according to the context in which the publications are distributed: multiple brands, regional specificities, customer specificities, and so forth. The granularity of the documentary modules, combined with essential writing discipline, leads to the above-mentioned savings and quality increase. As for multi-channel distribution, it requires a good command of distribution formats, both for PDF generation and for conversion to web format (HTML) or to Apps for phones and tablets.
So, DITA or S1000D?
The answer is relatively simple.
S1000D
is a set of very precise specifications in terms of the data to be used and the processes to be implemented, in the context of the operation of physical equipment, mainly mechanical, electrical or electronic. Some industries require the use of
S1000D
in order to ensure interoperability of information between the different entities involved in the operation, support or even transport of the equipment. These sectors include Defence (air, sea, land), Civil Aeronautics, as well as Rail and Nuclear. All of them operate equipment with a very long service life, where modifications have to be followed very precisely. To achieve this,
S1000D
requires that a precise, internationally-approved material division of the equipment is respected. However, it should be noted that
S1000D
is difficult to approach, to answer all the problems of the fields concerned, and suffers from a relative lack of flexibility, even if some parameters are adjustable.
S1000D
does not include standard tools to generate publications, and, for example, cannot be used efficiently to document software because it is not detailed enough in terms of modularity.
DITA
, on the other hand, is a toolbox rather than a specification. It includes standard tools that meet the vast majority of cases, allows for publication, and is the result of a consensus of post-web specialists, unlike
S1000D
, which is older. In itself, the
DITA
standard basically leaves the user relatively "unassisted" compared to
S1000D
, but in return,
DITA
has a very high degree of structuring flexibility:
DITA
would permit "rebuilding" and imitating the
S1000D
standard, if necessary. More simply,
DITA
makes it possible to build the documentation system you need, because it adapts to just about anything, by addition:
DITA
is designed as a scalable system that retains its interoperability while allowing customization. If your products and processes are simple,
DITA
will be simple. If not,
DITA
will adapt "just enough" to meet your needs efficiently.
On the need for good tools and guidance
A modular documentation project, whether
S1000D
or
DITA
, can mobilize 500, 1500 or 5000 documentation units. The totality of the documentary units of an industrial or software company can be counted in tens or even hundreds of thousands of units. To manage the versions, languages and links in this mass of information, a CCMS (Component Content Management System) is necessary, as soon as the number of document units exceeds a few thousand. You will be all the more efficient as the tool will adhere to your own processes regarding information-distribution and production, adapt to your data formats, and interface with your existing information management systems. Given the complexity of
S1000D
, and the freedom offered by
DITA
, our specialist support and training services in these standards will be of great benefit to you, whether you want to start your projects or help your company in its digital transformation.