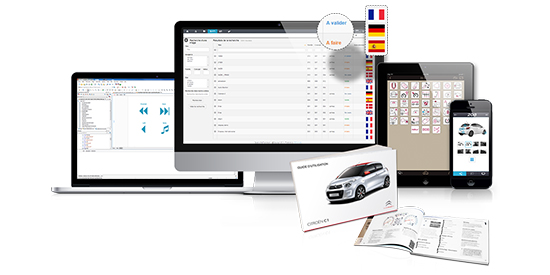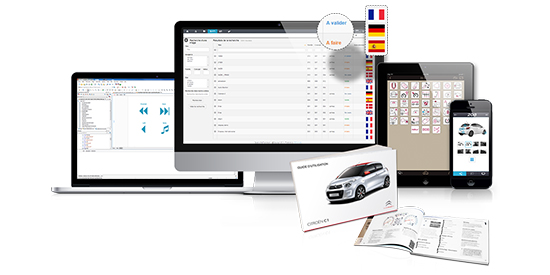 The challenge
In 2015, the PSA Group wanted to change the editorial system producing user documentation for Peugeot, Citroën and DS vehicles, in particular to reduce translation costs (30 languages), and to enable the transition to digital technology (smartphone applications), in order to provide users with more relevant and customized content.
The solution 
4D Concept suggested upgrading to the DITA content standard, known for its high ROI in terms of translation, its ability to customize content in cross‑platform publishing, and its guarantee of interoperability and long-term content.
After an analysis phase, all the data in the On-board Manuals, consisting of proprietary XML files, Excel® files and EPS illustrations are imported into DITA Factory and then converted automatically to DITA format.
Operational production of paper-based deliverables was transferred to DITA Factory by summer 2016. The customized documentation on smartphones started with the Paris Auto Show of that same year, then the web site for distributing documentation was provided with HTML files in addition to the PDF files.
As the nerve centre of the system DITA Factory managed the entire publishing chain :
Content creation by authors
Customization by brand, country of distribution, vehicle, etc.
Version, terminology, index management,
TMS flow management for localization
Integration with DTP, automated for all languages
Digital exports to web and mobile applications (stores)
After the migration and in the operating phase, the operational gains were significant and fully confirmed the choices made by the PSA Group for the production of its Inboard documentation, both paper-based and on smartphones.